ELECTROPOLSHING: QUALITY, PERFORMANCE & RELIABILITY
The Most Advanced Metal Finishing Method
Improve the Finish of Your Parts and Increase Part Performance and Cycle Life in One Effective Operation
Electropolishing, a reverse plating process, uniformly removes a layer of skin from a part's surface, leaving a smooth, ultraclean and improved surface. The process is ideal for fragile or complex parts and can be performed on nearly any alloy.
BENEFITS OF USING ELECTROPOLISHING
Removal of Burrs
Increased Corrosion Resistance
Improved Fatigue Life Improvement
Microfinsh and Size Improvement
Ultraclean Surface
Deorative Finish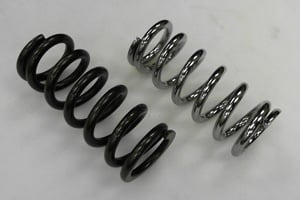 METAL ALLOYS SUITABLE FOR ELECTROPOLISHING
Aluminum
Brass
Carbon Steels
Copper
Nickel
Stainless Steel: 200-300 Series
Stainless Steel: 400 Series
Titanium
Specialty Alloys and more
WHY ABLE?
Unmatched Quality, Performance & Reliability from the Leader in the Metal Finishing industry
Since 1954, Able has been the leader in the metal finishing industry thanks to its exceptional customer service and sophisticated process control systems. Whether your parts are large vessels or small implants, we have the expertise for the job. At Able, we work with a multitude of industries and alloys, improving the fit and function to help your parts perform better and last longer.
What you can expect from Able:
- Speed and accuracy thanks to our multi-shift operation
- Fast turnaround with options for next day part return
- Compliant and certified processes to help you meet industry standards
- Large capacity capabilities and state-of-the-art facility
- Ability to work with nearly all alloys
Contact us today to learn more about our electropolishing services! You can also send us your part to process for free.
DISCOVER THE ELECTROPOLISHING DIFFERENCE
Contact us today for more information or to submit a part to be electropolished for free.