wHITEPAPER:
Electropolishing for Improved Fit, Function, and Finish of Additive-Manufactured Parts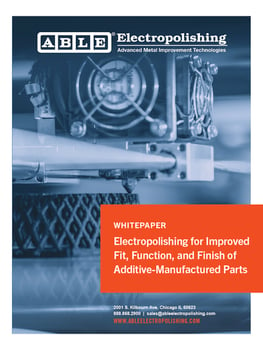 The expanding use of additive manufacturing – commonly known as 3D printing – for manufacturing critical metal components is driving interest in electropolishing among manufacturers using additive processes to create parts for everything from medical implants to aerospace and automotive components.
But like traditional manufacturing methods, additive processes can also leave parts with surface imperfections like microburrs and cracks that affect part fit, function and durability.
In this whitepaper, you will learn the role that electropolishing plays in the manufacturing of additive-created metal parts, including as a final step in a process that can also include mechanical polishing methods.
You'll also learn:
How additive manufacturing works
Finishing options used with additive manufacturing
Electropolishing's role in finishing parts manufactured via additive technology
How electropolishing works
The benefits of electropolishing alone and with other finishing methods
And more